Golf: The Great Clubmakers
Author: David Stirk
Published: First edition 1992
New price: £25
David Stirk, who has written several titles on the field of golf history, gives us in this book a picture of the crafts of the earliest clubbers. This is not a book that talks about mass production and machine-made clubs. Here we get to know, above all, the most skilled clubmakers of the 19th century, their tools and their creations.
The author carefully goes through how the clubs were made and for those who want to learn more about these skilled craftsmen, this is a very pleasant read. A very richly illustrated book that is well worth its pounds.
Golf - History & Tradition
Author: David Stirk
Published: First edition 1998
New price: £31
Another book by David Stirk. This time a very comprehensive history of our ancient game. This book is just as good for those who have just become interested as for those who have already read a lot about the history of the game. The book starts with a chapter called Early Golf that deals with those games that have similarities to golf but are demonstrably played earlier than golf. Then follows an account of early families who have had a great influence on the game's further development and survival.
A very interesting part is the one that deals with the formation of the first golf clubs. In this chapter, the real golfer probably finds a lot of interesting details that one could very well transfer to our "modern" clubs.
Of course, there are also chapters about clubs and balls. Not as well illustrated as in "Golf : The Great Clubmakers".
As I said, the book is quite comprehensive and ranges from the 14th century to the 20th century.
A great investment that should be in your golf library.
Golf in the Making
Written by Ian Henderson and David Stirk
Published: First edition 1979, Second revised edition 1982, Reprinted 1986 and 1990
New price: £45
This book, I would say, is a very good work for those who have recently become interested in the history of the game. In short, it contains everything you want to know. As it should, you start with the "previous games", continue with the earliest golf and how the game spread out into the world.
Famous clubmakers, the development of golf ball, wooden clubs and their manufacturers, the entry of iron clubs, various forms of play, patent clubs, etc. can be found in this book. It's a solid book of about 350 pages and I would say it really should be a cornerstone of your library.
Golf - Scotland's Game
Author: David Hamilton
Published: First edition 1998
New price: £29
Written by the incredibly knowledgeable golf historian, as well as the brain surgeon, David Hamilton.
Mr Hamilton, who lives in St Andrews and is a member of the R&A, has written a lot of very fine books. Most often he publishes them in his own publishing house and prints them himself in his house in the middle of the city.
David is a very friendly man who is incredibly interested and knowledgeable in the history of the game.
In this book we follow him on a journey from golf's earliest origins until the game of the 20th century.  Mr Hamilton, of course, writes from a Scottish perspective and his book is based on very deep sources, known and unknown, and a great deal of "new" information emerges.
This is a book that is a must in a golf library, if you get hold of it that is!
Tommy's Honor
Author: Kevin Cook
Published: First edition 2007
New price: £22
This book could even be recommended to anyone who is not interested in golf at all. The author has managed to capture the exciting story of the Morris family in an absolutely outstanding way. This makes the book both fiction pleasure and a historical nugget of gold. We follow Old Tom Morris from young tom being born until old tom dies as the last survivor of his family. This book has recently been published, but is already outcompeting many of the older titles if you're only going to buy a single book to begin with.
Antique Golf Collectibles
Written by Chuck Furjanic
Published: Third edition 2004
New price: $29.99
In this book you have a really good guide to help you date and evaluate antique lollips, balls, porcelain, pegs, paintings, etc. Many clubs are also well photographed. Along with a few other books, this is what you need to learn more about your clubs.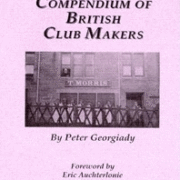 Compendium of British Club Makers
Author: Peter Georgiady
Published: Third edition 2004
New price: $55
An absolutely indispensable book if you want to know more about the age of your clubs. Lists all professionals in the UK. Very easy to use. Search for the last name and you will find pro's name, club affiliation and year at the club. The largest and most famous club makers are also described in more detail.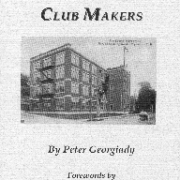 North American Club Makers
Author: Peter Georgiady
Published: First edition 1998
New price: $40
This is the American version of the Compendium of British Club Makers. It is a great advantage to have both books as sometimes American pro names also appear. It's sad if you can't date the club in the absence of the right book!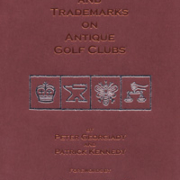 Cleek Marks and Trademarks on Antique Golf Clubs
Written by Peter Georgiady and Patrick Kennedy
Published: First edition 2000
New price: $45
A really good book to have when you see a cleekmark that you don't know. You can search for e.g. "Horse" in the register and then find all brands that have a horse in them. Most of the time you will find the brand you are looking for and then also the age of the club. A great addition to Georgiady's other books.
Image copyright © Hickory & Linksland